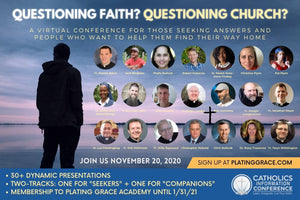 Our church membership is declining. People do not feel connected and even consider themselves not religious. This conference is the first of its kind. We will systematically look at the reasons why people do not affiliate or feel a part of religion in general, much less their Catholic Faith.
We've teamed up with more than 15 of the most dynamic thought leaders and caring pastoral presenters, who will present a total of over 40 talks. Unique to this conference, each topic will offer two tracks - one for the "seekers" (the NONES) and one for their companions (people who are trying to help).
Here are the topics that are presented:
When did I stop caring about religion?

Church Just Isn't For Me

Church is Full of Hypocrites

I'm Busy, Unmotivated and Confused About Church

As Long As I'm A Good Person, God Doesn't Mind If I Don't Go to Church

God Hasn't Done Anything Good For Me Personally

I Don't Believe in the Devil, so God Doesn't Mind (As Long As I'm a Good Person)

Catholic Teachings are Just Unfair & Mean to People, Especially Women, LGBTQ, Divorced, and Anyone Who's Different

I Don't Want To Change; I'm Happy Without Church

I'm an Atheist - Prove That God Is Real

Church Doesn't Make Me Feel Good
BUNDLE comes with both a video playlist and mp3 downloadable versions of all presentations.